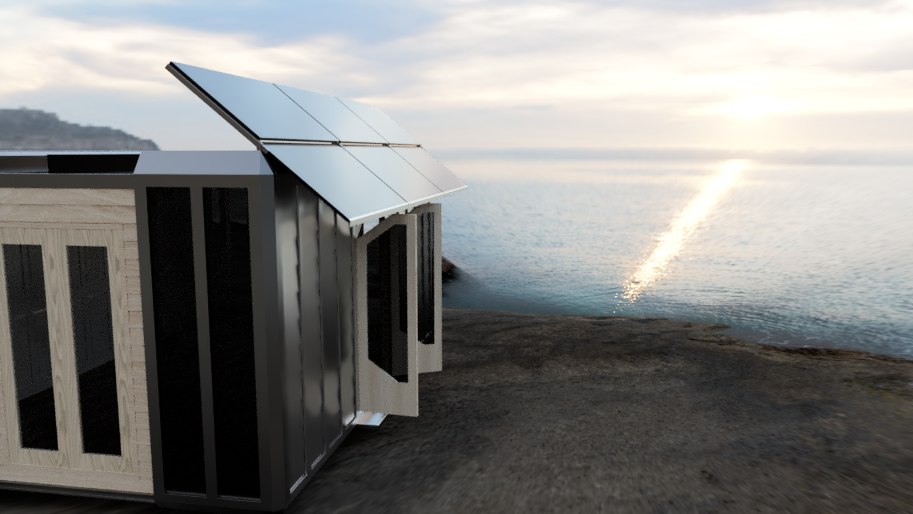 We build smart, luxurious, flexible working and living
spaces, with respect for environment.

We combine expertise and craftmanship with the latest techniques and beyond to redefine what living and working means in the 21st century.
What is a Homer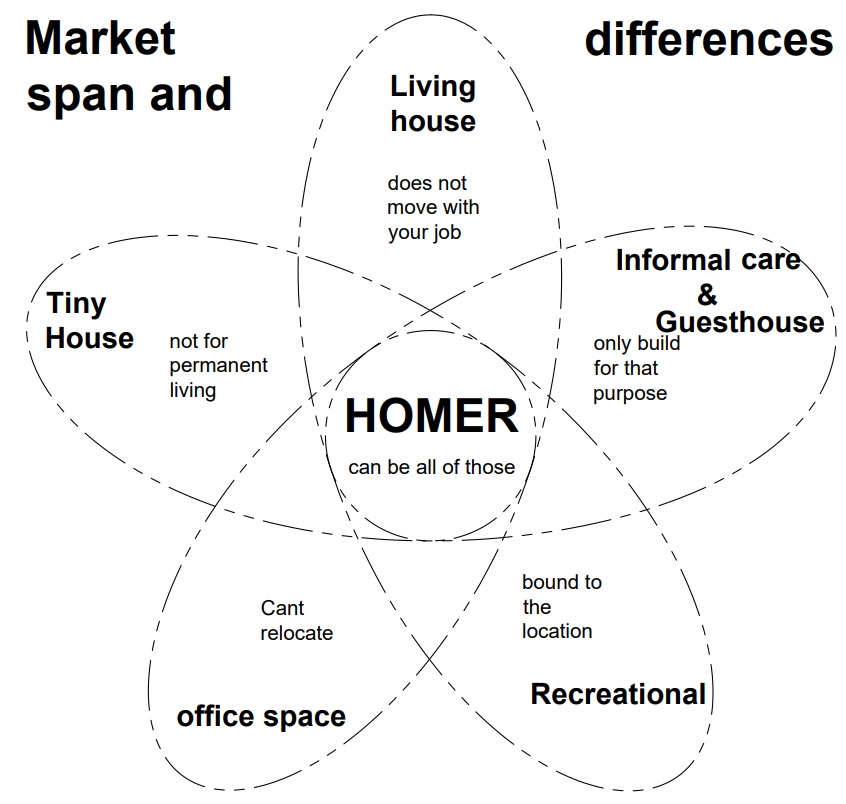 Homer: A high-end easy placeable living or working area, expandable and retractable, with a maximum inside area of 8 by 4 meter
Retracted 2.4 meter wide for easy transport
Mostly no permit needed to place in backyard
Self supporting energy possible
Site remains untouched, no alterations needed, no disruption by HOMER
Usable for a day or 30+ years
Consists of the latest smart and durable tegniques, all integrated and working together
Homer, Flexible Living and Working
Luxury 16m2 to 32m2 HOMER OFFICE or HOMER LIVING that can be placed anywhere
Fully portable and can be placed on a wide variety of ground surfaces
1 Type of HOMER OFFICE and 1 type of HOMER LIVING with different size ranges possible due to innovative segment built
Click and connect more components to grow your home
Latest "sustainable living technologies" to ensure a clean and healthy home environment
Every component used is of highest "local" and "sustainable" quality designed to create a healthy HOMER
Connected to today's devices with the posibillity to disconnect
Be closer to nature, live at a lower expense, work close to home
Homer General Specifications
Energy generation and high-quality isolation guarantee year-round pleasure and accessibility no matter the temperature
It comes ready to use on the back of a trailer, no on-site construction needed
Quick and easy transport through innovative building: transport in rectracted mode of 2.4m width and full length
16m2 to 32m2 expandable, width set on 4m and length amendable between 4.5-8.5m
Can be placed on any surface without need for a foundation through HOMER smart self levelling™
Possibility to be fully independent of energy grid through HOMER facade heat pump system™ and HOMER optimum solar™
Comfortable temperature all year round with innovative HOMER ceiling heating™
High quality wooden walls and floors in color of your choosing
Ample window- and door space
Glass ceiling provides plenty of natural light
Subscribe to a 2 yearly checkup
Wil je de ontwikkelingen volgen? Schijf je dan in!
Homer Living and Homer Office
Homer™ Office is a modern expandable and portable office space that can be placed anywhere, in your backyard or property
It has all amenities needed for home office working close to home with possibility to add extras like a toilet or kitchen or entry hall.
Fully off grid possible if there is no need for water or sewage
Elektricity and ethernet
Single antrance door and double doors to enjoy your garden
Nice wooden floor, wals and ceiling in the collors of your chosing
It has NO furniture, You have to bring your own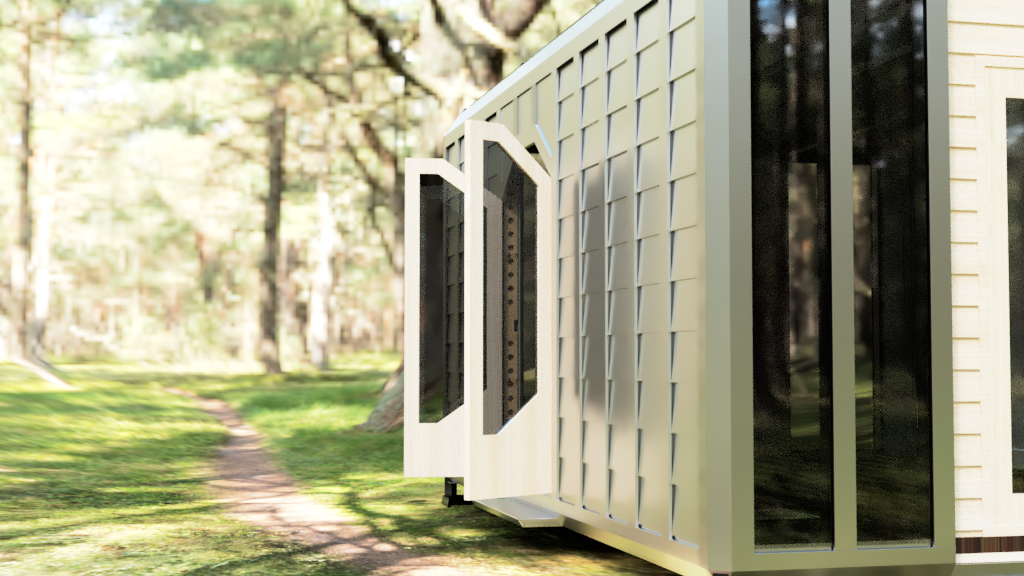 Homer™Living is a modern expandable and portable living space that can be placed anywhere, in your backyard or on property
Arrives ready to use but needs connection to sewage pipe and water supply (for now)
Designed as a private guesthouse as an extension of your home
Suitable private informal care either for independent living for elderly people or for caretakers
Fully equipped with living space, sleeping space, kitchen, bathroom and toilet
If you are in possession of a BE driver licence it is very easy to relocate your HOMER living
It is fully furnished and directly ready to move in
Nice wooden floor, wals and ceiling in the collors of your chosing
Homer Innovations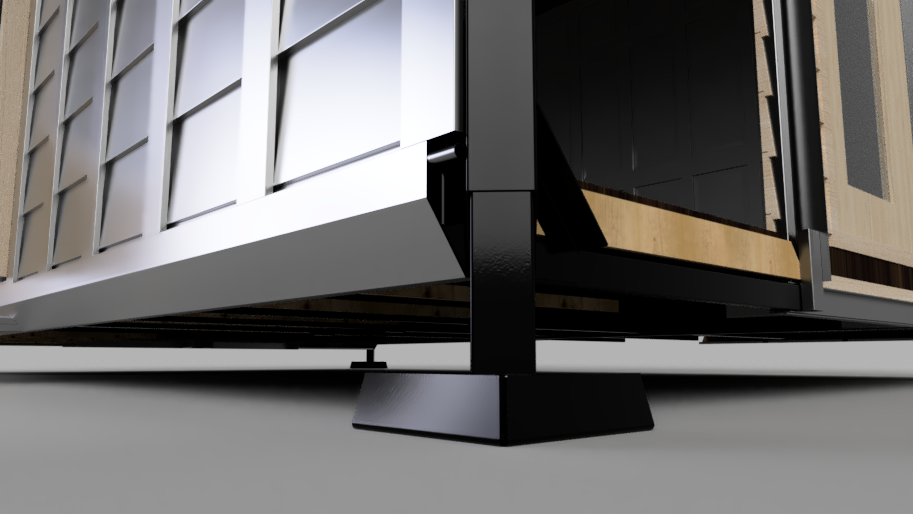 HOMER Extraction and Retraction
HOMER Smart Levelling
HOMER Modular Enclosure Elements
HOMER Next Level Heat Pump
HOMER Ceiling Heating
Low voltage energy system
HOMER Smart Solar
HOMER Smart Fusebox
HOMER Master Control
Luxurious interior finish
HOMER Estraction and Retraction and Homer Smart Leveling in action:
Wil je de ontwikkelingen volgen? Schijf je dan in!
Informal Care
Homer is a one level building and has everything you need to live independently. Beside from that, it is very easy to place, and replace. If the demand is no longer there it can easely get a new purpose.
Pre informal care
In the Netherlands it is alowed to get a permit to house give housing with a age of 67 and above in your backyard. After that it can ofcourse become a informal care accomodation. And ofcourse, it can get another purpose afterwards.
Student Housing
Homer can easely house students that can not find proper housing close to where they study. It can be used in the same way tiny houses are being used. Moving is extremely easy. Living costs of a Homer is very low. When the study is finished, it can be used to to move to the new job, a piece of land can be bought to live on, or whatever you can think of doing with it.
Young Families
De Homer is geschikt om in te wonen met jonge kinderen, in bijvoorbeeld de natuur. Je moet dan wel het avontuur zien in klein en minimalistisch. Maar alles is er om goed en confortabel te kunnen wonen. En wil je op vakantie, of een weekendje weg met het gezin, dan druk je op een knop en rijd je er 15 minuten later mee weg, zonder je spullen te hoeven pakken.
Recreation
De Homer is heel eenvoudig op iedere gewenste bestemming te brengen, zonder speciaal vervoer, en kan dan heel goed als vakantie huis dienen.
Traveling
Ingeschoven is de Homer te gebruiken als een caravan, maar je schuif hem uit als je stil staat en de ruimte het toelaat. Hiervoor zou het het makkelijkste zijn als je je BE rijbewijs haalt. Dan zet je hem op een semi dieplader met be trekker er voor. Hij is relatief compact, in ingeschoven toestand, en binnen de afmetingen om er mee door heel Europa te reizen.
Durable, with a low footprint
De Homer is zo duurzaam mogelijk gebouwd, en we blijven innoveren. Over alle materialen is nagedacht, en hij verbruikt zeer weinig energie. Zelfs zo weinig, dat je niet eens aangesloten hoeft te zijn op de nutsvoorzieningen. Alle problemen met de energie vragen heb je met de Homer, mvoor wat betreft wonen opgelost. En nog steeds ben je van alle gemakken voorzien
Pilot project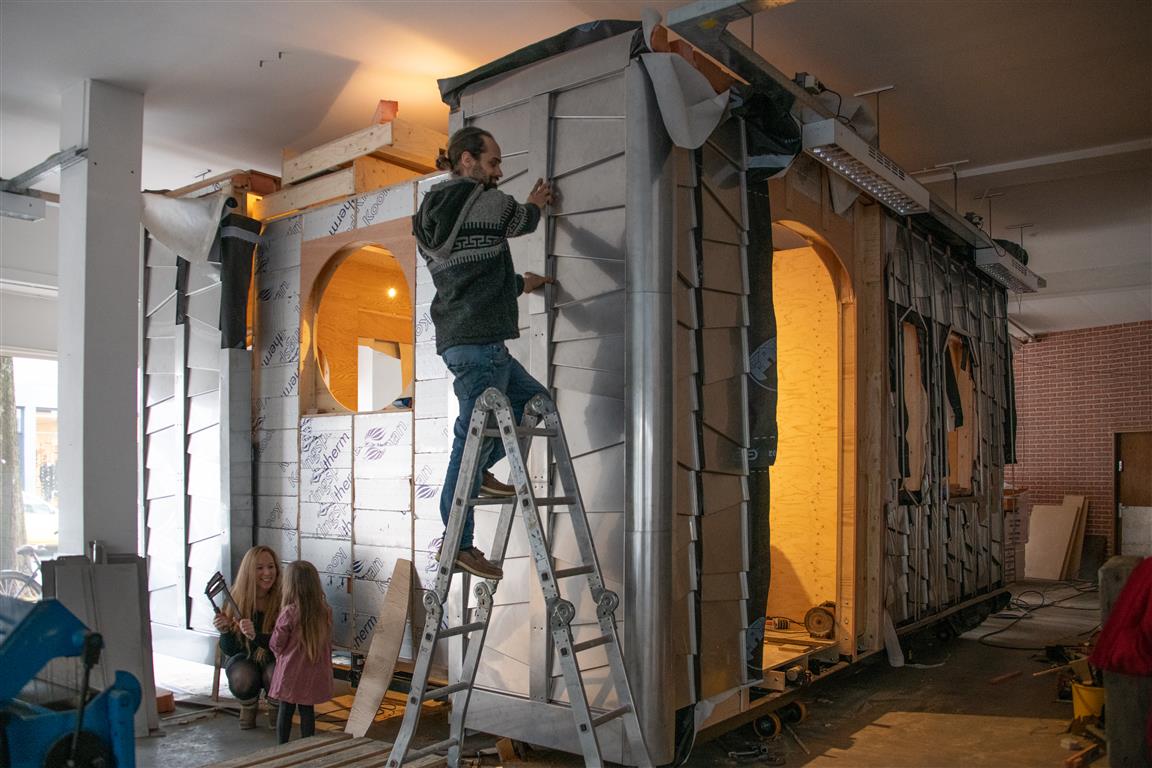 naar tijdlijn
Wat is er allemaal mogelijk?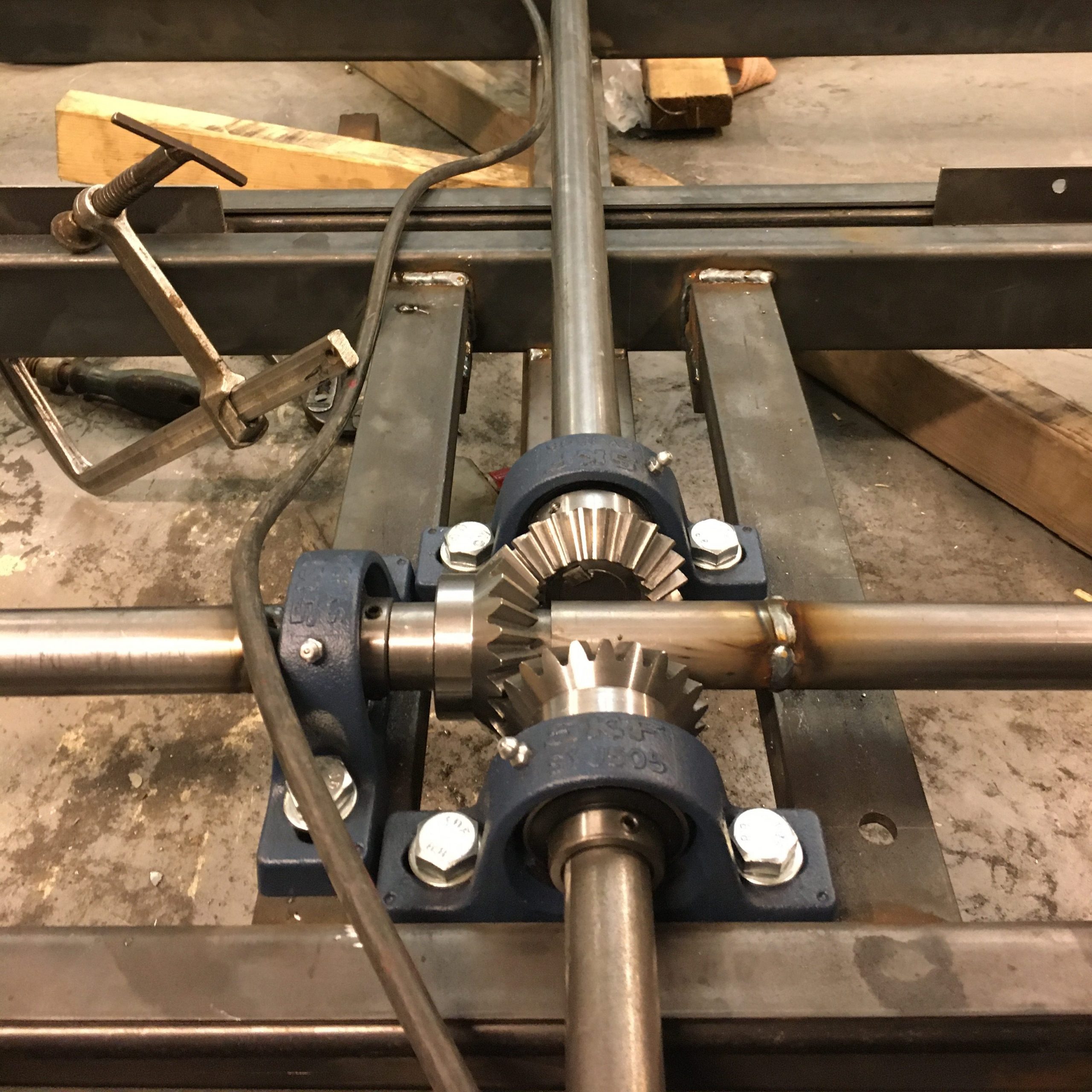 naar Homer features
Wie zijn wij?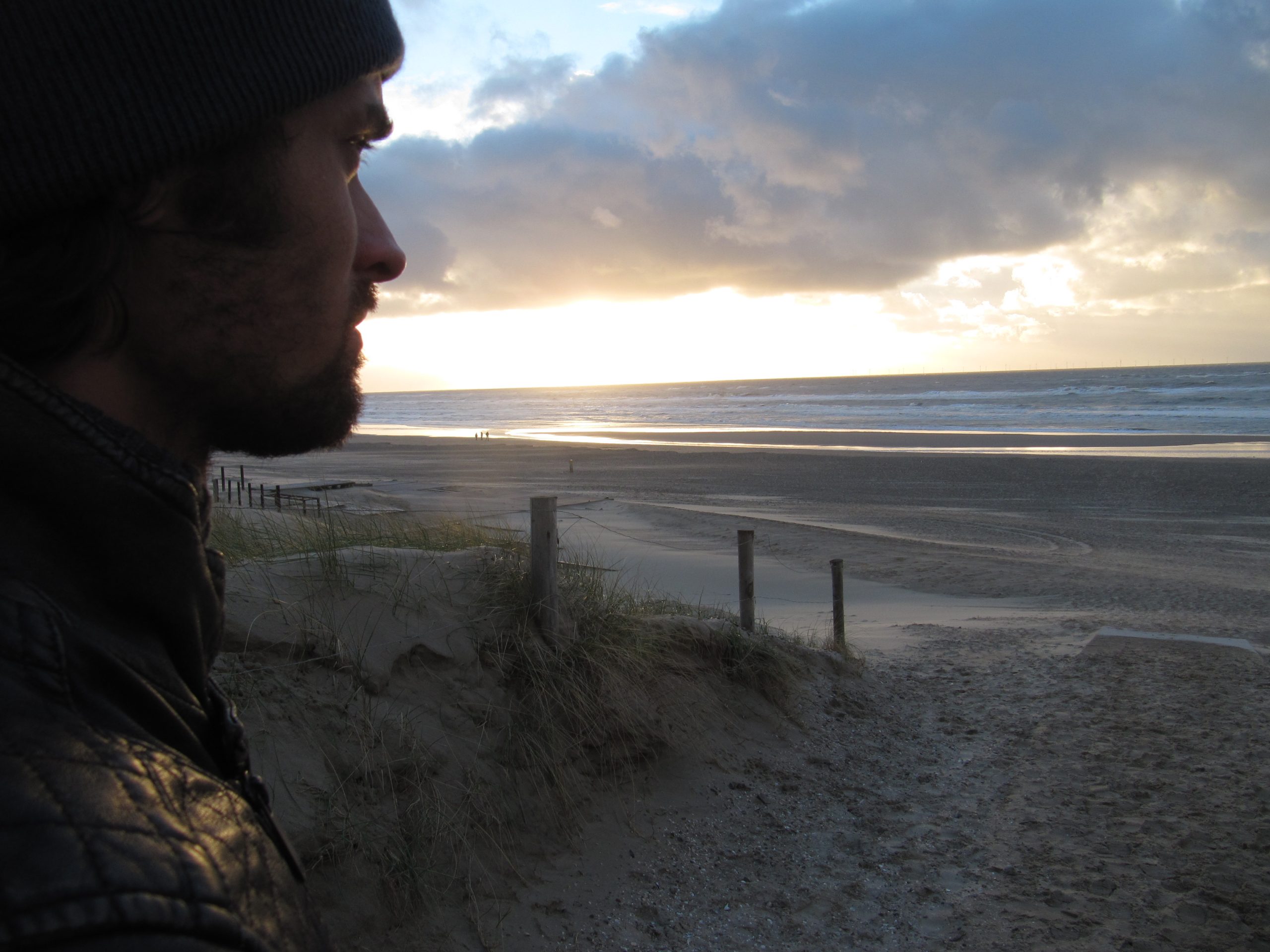 meer over ons
Laatste berichten
Wijsheid in de achtertuin

Tijdens het bouwen van onze Homer, realiseerden we ons dat de Homer als (pre) mantelzorg woning bijzonder geschikt is voor ouderen. Dat kan eenvoudig in de achtertuin, in plaats van in een bejaarden tehuis. Hij staat volledig op zichzelf, is…

Read more

: Wijsheid in de achtertuin

Houten gevel

Als de Homer is uitgeschoven vonden we het mooi als het karakter veranderd van iets mobiel naar iets meer huiselijk. Daarom hebben we gekozen voor hout. De uitdaging was vervolgens het vinden van hout dat zo lang mogelijk mee gaat,…

Read more

: Houten gevel
Achtergrond van de bouwer
Voor een greep uit het werk van de bouwer, bekijk hier zijn website: Gabrieldejong.nl